Finca La Anita Cabernet Franc
2020
The Wine
Timeless wines that are the spirit and soul of our terroir at Finca La Anita. Extraordinary wines to drink and age.
This Cabernet Sauvignon is vinified from carefully selected grapes at our Finca in Agrelo, Luján de Cuyo, Mendoza.
Soil
The soil, of alluvial origin, is made up of a stony subsoil where sand, silt and clay settle. This soil is poor in organic matter, limiting the excessive growth of the vines, thus providing excellent conditions for the production of quality wines. Clay soil speckled with fine silt. Little presence of carbonates.
Weather
The climate is characterized by its warm days and cool nights, with a thermal amplitude of 14°C and an annual rainfall average of 200 mm.


Winemaking
The harvest is carried out the last week of March in plastic boxes of 20 kg. Then a gentle destemming is carried out, to keep the grain as intact as possible.
Subsequently, a pre-fermentative cold maceration is practiced for 7 days, in order to obtain delicate aromas. Fermentation takes place at 23° with inoculation of selected yeasts. Oenological practices such as delestages are carried out, thus favoring the extraction of color and smooth and elegant polyphenolic compounds. Malolatic fermentation then takes place.
Tim Atkin 2023
90 points (2022 Vintage)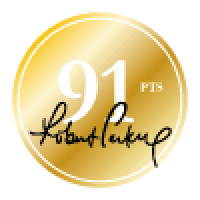 Robert Parker
91 points - 2020